Cramlington Chiropractor, Dr James O'Malley
Chiropractic: For Man and His Best Friend!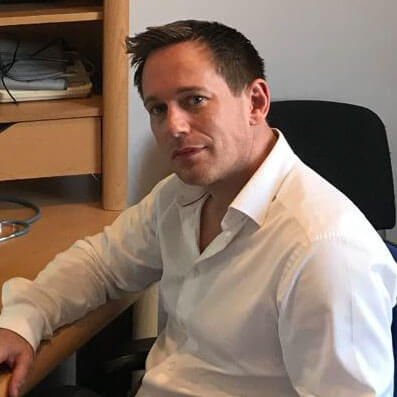 Doctor after doctor, coach after coach kept saying,"James it's in your head, there is nothing wrong with your low back and hamstring."
Really? As, after seeing numerous specialists, it was a Chiropractor who correctly diagnosed my underlying low back problem and had me back doing athletics and playing rugby within two months after a year on the sidelines.
Then, as if I needed more reason to believe than my own experience, canine Chiropractic thankfully sealed my fate! Our pet labrador was diagnosed with overnight rheumatoid arthritis after hitting a pot hole on the beach. The dog was to be on a life of tablets. I witnessed first hand over a few months it go from non-weight bearing, to limping, to hobbling, back to full health sprinting around the beach. Right then I knew I was going to be a chiropractor.
A Rugby Scholarship Paved the Way
Fortunately the oldest and most prestigious university in the world, Palmer College of Chiropractic in Davenport, Iowa, USA, offered rugby scholarships. So for my brother and I, who were both playing rugby at the Newcastle Falcons, it was a no-brainer.
We both graduated with a Doctorate of Chiropractic, successfully passing all four parts of the American board exams, the Physiotherapy board exam and then finally. . . the dreaded UK Chiropractic test of competence exam.
Balance Your Body, Balance Your Life
Away from the clinic I enjoy all kinds of sports, making time for friends and family is also important to me. I think you get out of your body what you put into it. So I try and eat healthy and have a balanced lifestyle.
Receiving monthly Chiropractic maintenance adjustments helps keep my body balanced and I rarely get sick. My whole family are under Chiropractic care and generally as a whole we have no health issues. I truly believe it is the essential ingredient to a healthy life.
Enough about me! How can we help you with today's safe and natural chiropractic care? Give us a call or email today so we can help you take your first step towards better health.